My Blog
Posts for tag: smile makeover
By Julie A Fattore DDS
October 30, 2013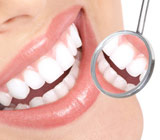 Most dental treatment has a cosmetic aspect to it since in the act of "restoring" teeth they are made to look better. The word "cosmetic" comes from roots meaning, "to adorn, dress and embellish." Here are some terms and cosmetic dental techniques that could change your smile.
The best and easiest way to remove stains on your teeth? Make an appointment to see a dental hygienist to remove unwanted stains from coffee, tea, red wine, that can discolor the outer surfaces of your teeth. Your teeth will look better and be healthier as a result.
Dental office or home whitening? Dull, dingy and discolored teeth can be whitened with over-the-counter products at home, or professionally in our office. If you use the home method, be sure to follow the manufacturers' instructions carefully to make sure you don't overdo it. In our office we can use stronger bleaching solutions with special precautions to protect your gums and other tissues and achieve whiter teeth more quickly.
Cosmetic change for back teeth? Tooth-colored composite resin filling materials are a relatively inexpensive way to replace tooth structure that has been damaged (by decay or otherwise) with non-metallic materials that bond to your natural teeth, match their color and make them stronger. (Sometimes metal restorations, like gold are advised for people who grind their teeth.)
Cosmetic change for front teeth? Tooth-colored composite resin restorative filling materials — can be bonded directly to natural tooth structure becoming "one" with it. Used to replace tooth structure damaged by decay or injury such as chipped teeth, they are especially useful for front teeth in the smile zone. And they actually strengthen the teeth as well as providing highly cosmetic tooth restorations. In artistic hands nobody will know your teeth have been changed, except you and your dentist.
Porcelain Veneers are thin layers of glass-like ceramic material that replaces the original tooth enamel. Veneering a tooth often involves some enamel reshaping or removal to accommodate the veneer. Veneers are bonded to the underlying tooth, but can be made brighter and whiter than your own enamel to cosmetically enhance your smile.
Porcelain Crowns are similar to veneers in their cosmetic appearance but they cover the entire surface of a tooth, replacing tooth structure that has been damaged, lost or has become very discolored.
Clear Aligners are a newer technique used in orthodontics (tooth movement) to move teeth into better position to enhance cosmetic change and improve biting function. A series of clear plastic trays is used to gradually move teeth to more attractive and functional positions.
Dental Implants replace the roots of missing teeth. They are placed into the jawbone and become fused with it. Once implants have integrated with the bone, crowns are attached that look, function and feel just like stand alone natural teeth.
Contact us today to schedule an appointment or to discuss your questions about cosmetic dentistry. You can also learn more by reading the Dear Doctor magazine article "Cosmetic Dentistry: A time for change."
By Julie A Fattore DDS
July 08, 2013
Imagine how different things would have been for movie star James Dean, had he not managed to replace the front teeth he lost as a youngster. According to one biography of the 1950s heartthrob, Dean's teeth were knocked out while he was swinging around on a homemade trapeze. Because his smile was restored, Dean was able to land the plumb movie roles that catapulted him to stardom.
This is perhaps the ultimate example of how a smile makeover can create new opportunities for a person. But opinion polls confirm that nearly 90% of adults feel an attractive smile is an important social and career asset. And, an almost equal percentage of adults feel that their smile could use some improvement.
Are you unhappy with your smile? Is a smile makeover something you've ever thought about? Dear Doctor magazine has come up with a great list of questions you can ask yourself to figure out if you would benefit from this life-changing experience:
Do you avoid smiling in photos?

Are you conscious about spaces and gaps in your teeth?

Are your teeth making you look older than you feel?

Have you held back a smile?

Do you feel that your teeth are stained or too yellow?

Do you hold your hand up in front of your mouth when speaking or laughing?

Do you notice areas of excessive tooth wear that make your smile look older?

Do you have little teeth and a gummy smile?

Are your teeth crooked, chipped or crowded?

Do you wish you had someone else's smile?
If you answered "yes" to any of these questions, please come in and see us. We have an amazing array of cosmetic procedures available to us — far more than what was available to James Dean in the 1950s. These options range from relatively inexpensive teeth whitening treatments to more permanent cosmetic solutions such as porcelain crowns and veneers. Together we can come up with a plan to give you the smile you've always dreamed about.
If you would like more information about what a smile makeover could mean for you, please contact us or schedule an appointment. You can learn more about smile makeovers by reading the Dear Doctor magazine article "Beautiful Smiles by Design." Dear Doctor also has more on "The Impact of a Smile Makeover."
By Julie A Fattore DDS
January 15, 2013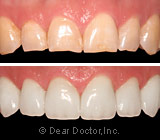 We are often asked about restorative and cosmetic dentistry procedures and the role they play in a smile makeover. We are also faced with people wondering whether or not they can benefit from treatment. For this reason, we developed the following self-assessment to help you determine whether or not cosmetic dentistry is right for you.
Do you avoid smiling in public or for photos?
Are you self-conscious about spaces and gaps between your teeth?
Do your teeth make you look older than you feel?
Have you ever held back or restrained a smile?
Do you feel that your teeth are stained or yellow?
Do you hold your hand in front of your mouth when talking, laughing or smiling?
Do your teeth look old and worn down, making you look and feel older?
Do your teeth appear short because of a "gummy" smile?
Are your teeth crooked, chipped or crowded?
Do you wish you had someone else's smile?
If you answered, "yes" to one or more of the above questions, then you could benefit from a smile makeover. However, that is the easiest part of the process. The next step is the one that probably matters the most — scheduling a consultation with us. During this appointment you can discuss the specifics that bother you about your smile using your responses from our self-assessment test. You can also learn about the many treatment options available for providing you with the smile of your dreams.
Ready To Take The Next Step?
Contact us today to discuss your smile makeover questions or to schedule a consultation. Or, learn more now when you continue reading the Dear Doctor article, "The Impact Of A Smile Makeover."