My Blog
Posts for tag: dentures
By Julie A Fattore DDS
December 11, 2014
If you've had the misfortune of losing all or most of your teeth (a condition called edentulism), you still have effective options for restoring lost form and function to your mouth. There is, of course, the traditional removable denture that's been the mainstay for edentulism treatment for decades. If you haven't experienced significant bone loss in the jaw, though, a fixed bridge supported by titanium implants could be a better choice.
But what if bone loss has ruled out an implant-supported fixed bridge? There's still another option besides traditional dentures — a removable "overdenture" that fits "over" smaller diameter implants strategically placed in the jaw to support it.
A removable, implant-supported bridge offers a number of advantages for edentulism patients with significant bone loss.
Speech Enhancement. Any denture or bridge supported by implants will have a positive impact on speech ability, especially involving the upper jaw. But patients who've previously worn removable dentures may not see a dramatic difference but will still be able to benefit from the greater stability of the denture, particularly if the dentures were previously unstable.
Hygiene. A removable denture allows better access to implant sites for cleaning. Better hygiene reduces the risk of gum disease and further bone loss.
Long-Term Maintenance. Regardless of which type of implant supported restoration is used, it will eventually require some maintenance. A well-designed removable overdenture can make any future maintenance easier to perform.
Aesthetics. For personal satisfaction, this is often the ultimate test — how will I look? As a product of the evolving art of facial aesthetics, removable dentures supported by implants can replace lost tissues and restore balance to the face, and often produce a remarkable smile "makeover."
To find out which restoration option is best for you, you should first undergo a thorough examination to determine the status of your facial and jaw structures, particularly the amount of bone mass still present. Ultimately, though, the decision should be the one that best fits your functional needs, while fulfilling your desires for your future smile.
If you would like more information on tooth restoration options, please contact us or schedule an appointment for a consultation. You can also learn more about this topic by reading the Dear Doctor magazine article "Fixed vs. Removable: Choosing Between a Removable Bridge and a Fixed Bridge."
By Julie A Fattore DDS
April 02, 2014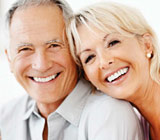 Edentulism — the complete loss of all the permanent teeth — is a condition that affects over one-quarter of all Americans over the age of 65. For many seniors, it can be a devastating blow to their confidence and self-image. Worse, if left untreated, it may lead to nutritional problems, periodontal disease, and bone loss.
Fortunately, an affordable, time-tested treatment option is available: full denture prosthetics, or false teeth. Denture technology has changed over time, but one aspect of the process remains the same: making a superior set of dentures requires an equal blend of science and art.
To replicate the look of a patient's natural teeth, a dentist must make many choices: What size should the new teeth be? How much of them should show above the gum line? How should they be spaced? Photographs of the patient before tooth loss can help in making the decisions. We will use these, combined with clinical acumen and an artist's eye, to achieve the best aesthetic results.
But dentures not only simulate the teeth and gums they replace — they also help support the facial skeleton and the soft tissues of the lips and cheeks. Balancing the muscular forces of the jaws and tongue, they help restore natural functions like speech and eating. In order to perform these tasks properly, it is essential that they be well crafted.
At each stage of their progress, from temporary wax rims through the hard plastic resins of the final product, the dentures are carefully custom-fitted to the contours of the patient's mouth. Their bite must be balanced, meaning that upper and lower dentures come together to properly stabilize each other. This ensures that they will be comfortable to wear and will function properly.
Most people have only minor issues as they make the adjustment to wearing dentures; but for some, it's more troublesome. There are various options available to those patients, including implant-supported hybrid dentures. We can recommend alternatives based on your individual needs and preferences.
If you would like more information about dentures, please contact us or schedule an appointment for a consultation. You can also learn more about this topic by reading the Dear Doctor magazine article "Removable Full Dentures."