My Blog
Posts for: October, 2014
By Julie A Fattore DDS
October 27, 2014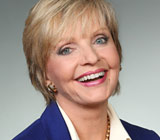 She's an international star who's recognized everywhere she goes. As Carol Brady, she was an ambassador for the "blended family" before most of us even knew what to call her bunch. And her TV Land Pop Culture Icon Award is on permanent display in the National Museum of American History. So what item that fits inside a purse can't Florence Henderson do without?
"I will never leave home without dental floss!" she recently told an interviewer with Dear Doctor magazine. "Because I have such a wide smile, I have found spinach or black pepper between my teeth after smiling very broadly and confidently."
Henderson clearly understands the importance of good oral hygiene — and she's still got her own teeth to back it up! In fact, flossing is the best method for removing plaque from between the teeth, especially in the areas where a brush won't reach. Yet, while most people brush their teeth regularly, far fewer take the time to floss. Is there any way to make flossing easier? Here are a couple of tips:
Many people have a tendency to tighten their cheeks when they're holding the floss, which makes it more difficult to get their fingers into their mouths and working effectively. If you can relax your facial muscles while you're flossing, you'll have an easier time.
To help manipulate the floss more comfortably, try the "ring of floss" method: Securely tie the floss in a circle big enough to easily accommodate the fingers of one hand. To clean the upper teeth, place fingers inside the loop, and let the thumb and index finger guide the floss around each tooth. For the lower teeth, use two index fingers. Keep moving the floss in your hand so you always have a clean edge... and remember, the goal is to get the tooth clean, but it shouldn't hurt — so don't use too much pressure or go too fast.
So take a tip from Mrs. Brady: Don't forget the floss! If you would like more information about flossing and other oral hygiene techniques, please contact us for a consultation. You can learn more in the Dear Doctor magazine article "Flossing: A Different Approach."
By Julie A Fattore DDS
October 09, 2014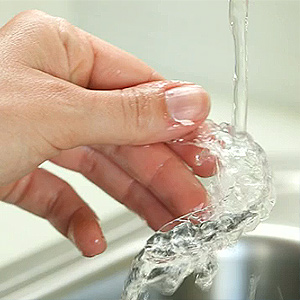 Question: What oral health issue do teenagers who wear orthodontic retainers and older folks who wear dentures have in common?
Answer: Both need to pay particular attention to cleaning their oral appliances.
The same goes for anyone who wears a nightguard to control tooth grinding, a mouthguard to protect teeth while playing sports, or a clear aligner for orthodontic treatment. Yet many people aren't sure how to properly clean their appliances — so here are a few handy tips:
DON'T:
Use toothpaste on your appliance — the ingredients in toothpaste, which are designed to polish the hard enamel of your teeth, are too abrasive for the soft plastic of oral appliances, and will cause scratches.
Boil your appliance, or use bleach to clean it — both will end up breaking down and destroying the appliance. Don't even use very hot water, as it can deform the plastic and make the appliance useless.
Leave your appliance out on the nightstand, or anywhere else — pets and small children have been known to find (and destroy) oral appliances left lying around. Instead, store it properly in its special case.
DO:
Use liquid dish detergent or hand soap to clean your appliance. A little mild soap plus warm water will do a great cleaning job. While you're at it, get a brush just for the appliance — because, while it's fine for plastic, you don't want to brush your teeth with soap!
Put a towel in the sink basin when you clean your appliance. Soapy appliances (especially dentures) can be slippery, and can be damaged by dropping — and that's an expensive mishap.
Consider investing in an ultrasonic cleaner. These inexpensive countertop devices are an excellent way to get the tiny ridges and crevices of your appliance really clean.
Whether you rely on dentures for everyday use, or just need to wear a retainer for a period of time, your oral appliance serves an important function. It may also represent a significant investment. That's why it's worthwhile to spend a few minutes each day giving these important items the care they need.
If you have questions about oral appliance care, please contact us or schedule an appointment.