My Blog
Posts for: December, 2013
By Julie A Fattore DDS
December 24, 2013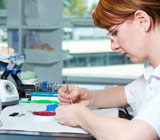 A crown restoration is a fabricated replica of a natural tooth. The mechanics and methods to prepare the tooth and attach the new crown are standard procedures in dentistry. But the crowns themselves — their individual shape, color and material from which they're constructed — can differ greatly depending on each patient's individual needs and desires. All these factors can have a bearing on cost — not to mention the process a dentist may employ to produce a custom crown.
Crowns are usually fashioned by a dental laboratory technician using castings of the patient's mouth prepared by the dentist. These professionals should be considered artists as well as scientists. And, like artists with certain areas of strength and expertise, individual technicians may also develop high practical skill for a particular type of tooth replacement; it's not uncommon for a dentist to use a different dental technician for a particular type and size of tooth to be restored. This could prove to be a factor in the final cost.
The efforts to create the best color in the crown can also affect cost. While we think of teeth as uniformly "pearly white," there really are variations and gradations in normal tooth color (even within the same tooth). Again, a bit of artistry is important here, as the dentist communicates with the technician on not only the color but also the subtle hue gradations along the length of the crown. Your input as a patient is also valuable in determining color — you must be satisfied with the final product. Fortunately, it's now possible to take a "test drive" of your potentially new look with a provisional crown that will allow you to see just how your permanent crown (which will be made of longer-lasting, higher quality materials) will appear.
These factors, as well as the limitations you may face by your insurance coverage, can greatly influence the final cost of treatment. As your dentist, we will consult and work with you to find the best crown restoration option that will fit both your dental needs and your financial ability.
If you would like more information on your options for crowns and other restorations, please contact us or schedule an appointment for a consultation. You can also learn more about this topic by reading the Dear Doctor magazine article "Value of Quality Care."
By Julie A Fattore DDS
December 10, 2013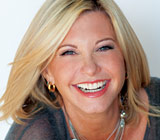 Olivia Newton-John, now in her early 60's, is still a fresh-faced picture of health — with a radiant smile to match. How does she do it? She does it with healthy habits learned from her German-born mother, Irene.
"I love greens, and as many organic vegetables as possible," Olivia recently told Dear Doctor magazine. "From spinach to salads to beets — pretty much any and all greens!"
Olivia credits her mom with instilling her lifelong love of healthy foods. Irene used dark bread rather than white bread for sandwiches and even made her own yogurt — which she used as a topping on baked fruit for dessert.
"Growing up, my mum really taught us some great eating habits," Olivia told the magazine. "When I was a girl in school, all of my friends would have cakes and cookies and fun foods but my mum was all about teaching us to eat healthy foods and to be very aware of what we were putting into our bodies. At the time I was annoyed about it, but looking back now I thank her for teaching me at an early age to eat healthily."
Irene paid particular attention to her children's oral health. "My mum always made us brush and floss after every meal so, once again, like the foods we ate, she taught us early about the importance of great dental hygiene," said Olivia, who has an older brother and sister.
As a mom herself, Olivia passed those healthy habits down to her daughter, Chloe.
"I always insisted on regular dental checkups and limited sugar, especially in soft drinks — they were never in our fridge," she said.
Parents do play an important role in developing healthy oral habits from the very beginning, starting with proper tooth-brushing techniques. By age 2, a brushing routine should be established using a smear of fluoride toothpaste. For older toddlers, parents can use a child's size soft toothbrush with water and a pea-sized amount of fluoride toothpaste. Children need help brushing until at least age 6, when they can generally take over brushing by themselves and also learn to floss.
The point of a good daily oral hygiene routine is to remove the film of bacteria that collects daily along the gum line, and in the nooks and crannies of teeth. Effective daily removal of this biofilm will do more to prevent tooth decay and promote lifelong dental health than anything else.
If you would like to learn more about preventing tooth decay or teaching your child to brush and floss correctly, please contact us or schedule an appointment for a consultation. If you would like to read Dear Doctor's entire interview with Olivia Newton-John, please see "Olivia Newton-John." Dear Doctor also has more on "How to Help Your Child Develop the Best Habits for Oral Health."